4 min read
Documentation Hierarchy 101: Why is it Important?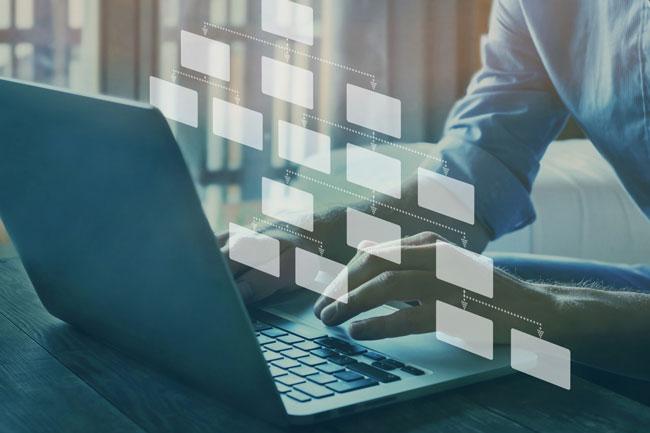 In order for a company to run efficiently, there needs to be a proper organization or hierarchy of documents and content. An inefficient organization can cause time delays and unnecessary work. In situations where time is critical, it can even have emergency and safety implications.
Over time companies accumulate documents and content. Information grows and without a good organizational hierarchy, issues will arise. What if a major piece of equipment malfunctions and staff cannot access the instructions to rectify the situation? What if a user can't find a specific safety protocol in an emergency situation because some of the documents have been stored as higher-level policies? Time and productivity suffer. Existing documents may need to be unnecessarily recreated. In addition, documentation that is not properly organized runs a big risk of security breaches. Confidential information could end up in easily accessible locations. All of these issues create increased costs and concerns for businesses.
Now more than ever, with most documentation being stored digitally, it is important to have an organized structure.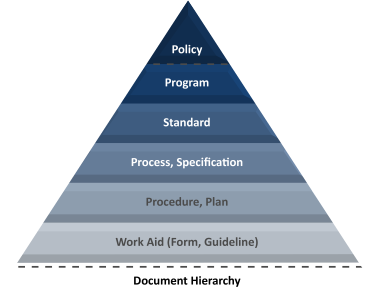 This is where Documentation Hierarchy comes in. Documentation hierarchy can be described as a framework to map out your documents and content so that it can be easily found and used efficiently. This framework allows companies to identify the types of documentation, and where to store them. It enables employees to quickly access the information they need. It provides an organized structure in which to place new information. A reliable framework allows for faster response times.
The purpose is to separate documentation into tiers, based on the type of information and the intended audience. The top tier of your documents contains the broad policies that must be adhered to company-wide and moves into more detailed and specific content with each consecutive tier.
Top-Down Tiers
Documentation starts at the highest level of the company and works its way down into very specific forms and guidelines.
Policies
This is the highest level and the first area that a company should address. What is the message that a company wants to convey? Who is the company and what are the levels of commitment to quality?
Programs
How are programs within the company managed and executed? This area lays out the processes that are put in place to plan and monitor the programs.
Standards
What are the mandatory regulations and policies that a company has to address? Documentation in this tier addresses regulatory and legal requirements that must be met. It identifies specific requirements and roles that are set out to meet those requirements.
Processes and Specifications
What are the core processes that must be accomplished to meet the policies, specifications and standards of the company? Processes and specifications outline steps or actions that must be taken as well as identifying roles and responsibilities.
Procedures and Plans
How do you achieve these processes? Procedures and plans provide step-by-step instructions for designated employees to complete specific tasks. Ensuring that these procedures are consistent and easy to find, decreases the risk of mistakes.
Work Aids (Forms, Guidelines)
What are the training and qualification requirements? This tier contains work aids and guidelines to help employees perform actions and decide the course of future actions.
First Steps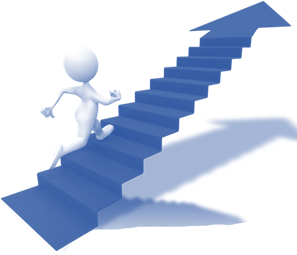 What are the first steps to creating a good hierarchy of documentation? Most companies already have some form of documentation organization but need to ensure that the content is easy to find and consistently used. Are policies and procedures mixed up? Do specific work instructions get stored with higher-level procedures? Take some time to evaluate the current structure of documentation and see where there is room for improvement.
Identify the top-level policies of the company. What you are
telling/providing/selling.


Set up a foundation for your programs and standards.

What steps do you have to take?

How do you ensure that a customer is satisfied?

What mandatory regulations need to be considered?
Evaluate current processes, specifications, procedures, plans, and work aids.

Track objectives and targets

Look at individual measurements

Review internal guidelines
Identify weaknesses and areas of concern

Are there areas of inconsistency?

Are there areas of overlap?

What are the risks?
List what needs to be fixed and execute
Schedule follow-ups and reviews for improvement
Conclusion
Using documentation hierarchy will simplify complex procedures for employees. This provides a more reliable system, reduces the risk of errors, and increases the response time for critical situations. Providing a documentation hierarchy provides a map for employees to easily access the information that they need, when they need it.